An Invitation For the Sauna-Curious


Hi! Or Hei as they say in Finland –
I'm Marci, a Canadian girl who learned a lot from my Finnish Grandma. Especially how much fun it is to introduce friends and new people to the fun of doing sauna. And by sauna I mean cold plunge too since going from hot into the cold is where the fun begins!
I grew up doing sauna with my Grandma at her cottage by the lake, and assuming everyone's Grandma had a sauna too. In my teens, my friends came to visit they tried it too—first out of curiosity and then it became the fun thing to do. They loved it—even the ones who insisted they hated getting hot and didn't like to sweat. Running into the cold lake was the icing on the cake. As I grew up and travelled, I sought out a sauna wherever we went. I craved the hot+cold contrast that comes with a sauna plus a cold plunge, cold lake, cold shower, or even jumping in a pile of snow.
In 2022 I opened RITUAL Nordic Spa, an urban saunahouse in downtown Victoria BC so that others can discover and enjoy these experiences.
Sauna-curious? Read on…
As we roll into 2023, there is much buzz around wellness. You may have heard of " sober curious", an exploration of living an alcohol free lifestyle. Or perhaps you are trying a "dry January" (or even a "dry-ish" one!) when we give our bodies a break from a decadent December. At RITUAL we propose the perfect complement to these and other healthy choices. We encourage you to be sauna-curious and cold plunge-curious this month and discover the many benefits of hot cold contrast.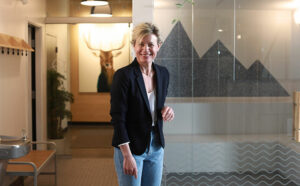 What can I expect during my first visit to RITUAL Nordic Spa?
Our main offering is the 2 hour Nordic Circuit, a self-directed journey through elements of hot, cold and relax. You decide how long to stay in each step, choosing from traditional Finnish sauna, steam room, cold plunge pool, Nordic bucket shower, Himalayan salt lounge, and outdoor patios to relax on. RITUAL is not a "silent" spa… We are based on the traditional Finnish-style social saunahouse where it's fine to chat with friends or fellow sauna-goers.
All you need to bring is a bathing suit and water bottle, and we provide the rest—locker, robes (if desired) and a fun licensed café to relax in after your circuit. Our Nordic Circuit Hosts are present to share their knowledge of hot and cold therapy, and guide you if you're new to sauna or cold plunge. We also have a massage wing with RMTs on staff, as well as private sauna suites for booking.
Why are people SO into this?
During Covid I noticed how people were trying cold plunge as a recovery practice for sports or dance. It went from being freaky—standing in the ocean or a bucket of ice water—to being an accepted thing. I think Wim Hof (the Iceman) helped the awareness grow too.
I think the flow of city living also makes gathering with others for a wellness experience appealing. When I heard about smaller, modern, urban sauna houses and bathhouses being built in cities like Brooklyn, Asheville, Portland, and even Calgary, I knew that Victoria BC deserved its own urban saunahouse too.
What's the vibe like?
Our goal was to create a space that was friendly and "delightfully unpretentious" like a ski lodge. Where other guests welcome you inside on a cold winter day, even if they have never met you. RITUAL uses streamlined Finnish design elements — wood, water and wool, and a Nordic palette that focuses on form and function — to make it feel like it could be a spa in Helsinki, Oslo or Stockholm. Even the snacks and beverages in the café have a Scandinavian hint to them!
Certain days and nights have a different vibe. Fridays are very social in the circuit as a fun thing to do (read: date night!) before couples and groups of friends go out into the city for a meal or drinks. Wednesday is Women-only 5-9 pm and very social as well; whereas Sunday mornings are quieter, with classical music.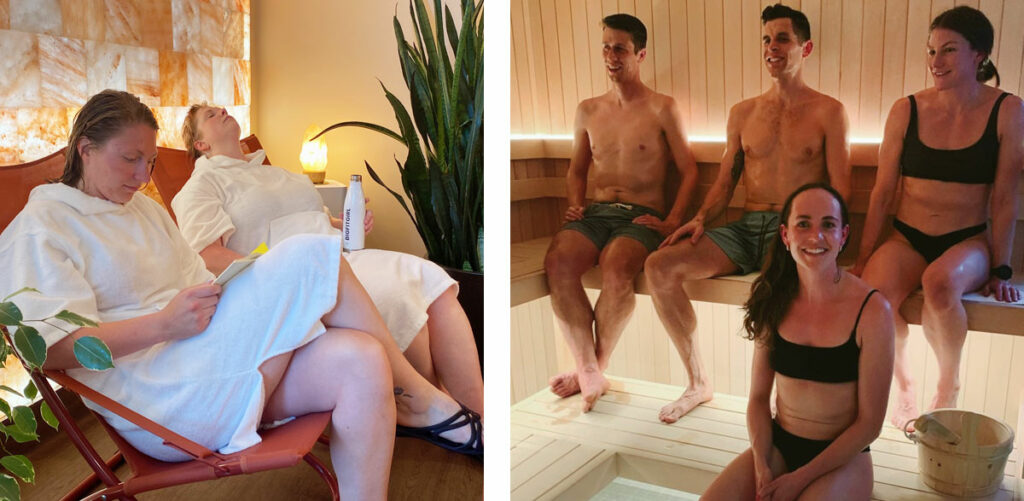 Social or Silent? Do I have to talk to people?
RITUAL is a social saunahouse—not a quiet or silent spa—so people chat with each other in the sauna or salt lounge. That said, it's a fairly quiet atmosphere usually and many guests come alone and enjoy the peacefulness. There is no requirement to talk. And for sure there is no physical contact in any way.
I'm a bit nervous about getting in my bathing suit…
The RITUAL guest experience is a digital and phone-free space, with very few mirrors. That was intentional to create a freedom. We can take a break and experience a true moment of being in our bodies, without wondering how we look in a bathing suit. We believe in body neutrality (which is a bit different than body positivity). This philosophy is based on the idea of valuing your body as an instrument for moving through the world, rather than as an ornament for being seen. This resonates well with guests.
Who Goes There? Who Will I Meet?
With the goal to be an inclusive, welcoming space for all people, design was guided by the idea of "urban, sporty Nordic" that could encompass all expressions of gender, more in line with a gym or recreation centre than a typical luxury spa. In our first year we have met a wonderful mix of folks of all ages (tho we are limited to 18+). Experience levels range from "sauna curious" first timers, to those who LOVE sauna and cold plunge, and find it essential to their lives each week.
Who you might meet in our main sauna circuit changes every day—we are as popular with locals as with visitors to Victoria, plus our Cold Plunge Club members who visit regularly. We have become a hot spot for athletes who love the therapeutic aspects of contrast therapy. We also get a lot of mother/daughter dates, and couples or groups of workmates coming in before a night out. Some people enjoy the Nordic Circuit as their "reward" after a long week or a challenging yoga class. Being tucked into a private alley right in downtown Victoria, people often visit on the way home from work or after the gym, combined with downtown errands, or while staying at a nearby hotel.
How much does it cost?
With a weekday circuit for $59 or weekend $69, our price point makes RITUAL a nice addition to the local spa landscape. We are priced in the middle between the high-end luxury spas and the local recreation centres. People find they can afford to visit weekly or monthly and build us into their lives rather than having to save up and visit once a year.
How do I give it a try?
You can book online here on our website, selecting your desired date and time. If you have any questions or need assistance, give us a call at 778-440-9009.
See you in the sauna! XOXO