RITUAL Holiday Gift Guide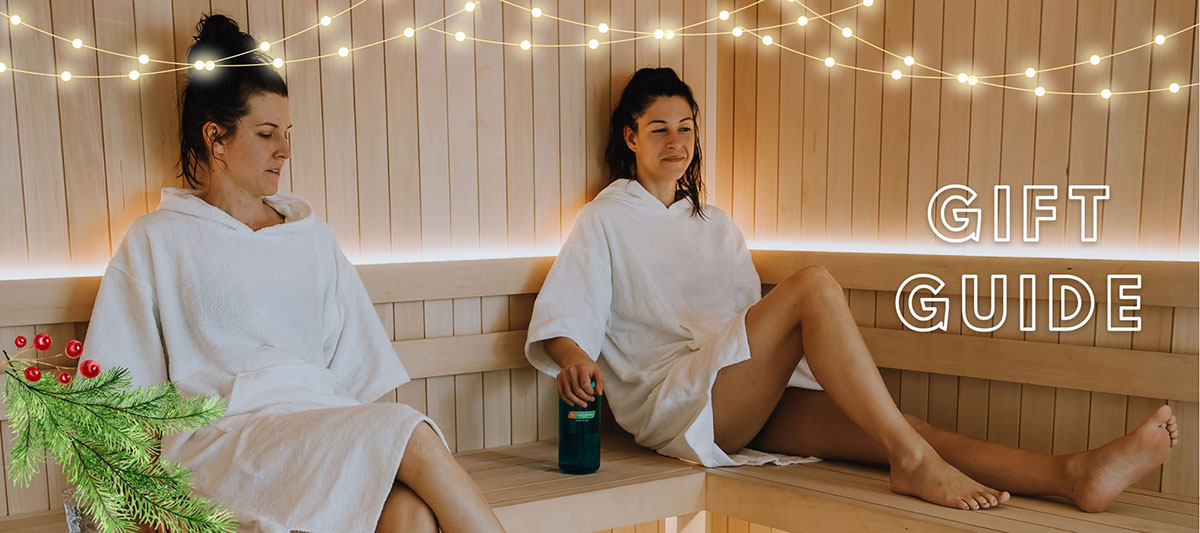 GIVING THAT FEELS GOOD! We've gotten to know you during our first year (thanks so much for making it a success!) and learned a lot about what makes people feel happy and healthy. Here is our RITUAL Gift Guide, created by our friendly Nordic Hosts. It's easy to shop online, creating gift certificates or building your own custom experience (choose gift certificates/service.) Want some help? Give us a call, 778-440-9009, or drop by the Spa, we are always happy to see you!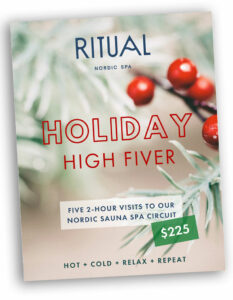 For the ATHLETE — If you are looking for an amazing gift for the fitness minded, they'll LOVE our Holiday High Fiver Pass! Good for five anytime visits to our Nordic Circuit. A 2-hour self-guided hot+cold+relax circuit with sauna, steam, cold plunge pool, Nordic bucket shower plus relaxing in the Himalayan salt lounge or the outdoor patio. On sale for $225 through December 31, shop online or in store.
For the ROMANTIC — This luxurious sauna experience includes 2 hours alone or couple-time in our private Cedar Suite Sauna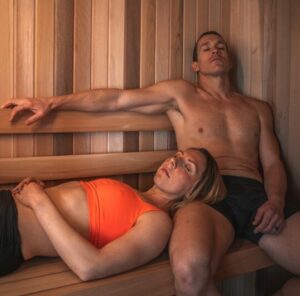 with cedar plunge tub. Move from hot to cold as often as you like, then relax on the nearby patio. Complete this blissful date night with 2 massages. Perfect gift for you and your special someone, or a lucky couple! A 3-hour package for 2 people is approximately $620 depending on services selected.
For the SAUNA-CURIOUS — Share your love of sauna with someone who might want to try it too! RITUAL Nordic Circuit single passes, now available in store and online (choose gift certificate service), make the best stocking stuffers for friends and family. Share the sauna – or cold plunge – love! $69 each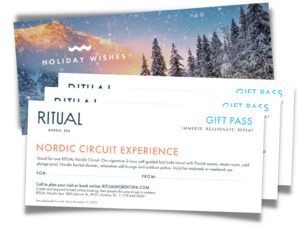 For your WORK MATES — Say thanks for a job well done with a gift of wellness. New this year, books of 10 RITUAL Nordic Circuit single passes (anytime use) are now available for only $500 ( a savings of $190!). Perfect for staff gifting and your favourite clients. Drop in to the Spa and we will get you set up! Available in spa only.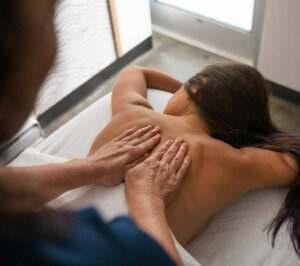 For that BUSY MOM — One thing every mom wants but never seems to find is quiet time for themselves. Treat mom to this half day package that includes a COMBO one-hour Nordic Circuit followed by one-hour Relaxation Massage. She can lounge with a book or tea afterwards. The day will warm away any worries and leave her relaxed, happy and energized! Package 2 hours, $175 BOOK NOW (choose COMBOS)
Or let them choose their experience with a RITUAL Gift Certificate. Totally stress free, gift certificates are fast and easy to purchase online, or visit us in the spa and we will prepare for you. Available in any amount, online and in store. They won't be disappointed!