READY TO SAUNA?
Find everything you need for your Nordic Circuit experience. Forget your bathing suit or water bottle? We've got you covered. We stock swimwear for men and women from Left on Friday, plus our stylish (and very affordable) RITUAL suits! Plus sauna hats that are fun + functional!
GIVING THAT FEELS GOOD
Find unique gift ideas that make both the giver and receiver feel great. Choose from gift certificates in any amount, Nordic Circuit passes, ready made gift bags, scandi chocolate treats, or build your own with some Nordic Spa swag.
NORDIC SPA AT HOME
Treat yourself and extend the bliss. Shop a selection of curated BC local products from Seaflora, Forest Etiquette, Communion Botanicals. A variety of products including skin care, bath salts, shower bombs, sauna scents, organic candles, and more.
MERCH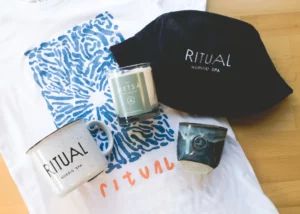 Wear your love for RITUAL on your sleeve… or on a bucket hat. Find fun Spa swag for you and gift giving in our retail area. Check out the Ritual Roncho (terry surf robe / poncho), tshirts, hats, water bottles and swim suits! Plus beautiful organic soy candles, handmade tea cups and notecards by a local artist.
PASSES + MEMBERSHIP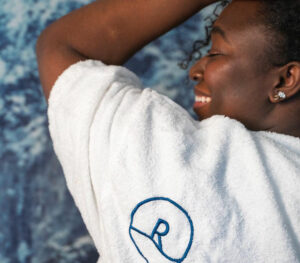 If you know, you know… We make it easy when you want more Nordic in your life. Whether you're seeking a healing, post-workout respite for your body, some self care solo time, or a relaxing meetup with friends, RITUAL makes it great. Find great deals on multi-visit passes in our promotions, or ask about our Cold Plunge Membership.
RITUAL CAFÉ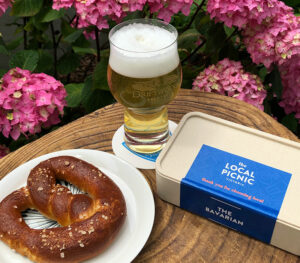 Gather for a cold beverage and snack after your Circuit in Après-Café. Try Scandinavian-styled snacks and a cold juice, or our own "Cold Plunge Pilsner" on tap (brewed locally by DRIFTWOOD). There is also tea, local Kombucha, and Italian prosecco on tap! Weekends are are extra special with muffins. Kippis! (That's cheers in Finnish).