Wellness Wednesdays for Women
Better than book club! Bring your bathing suit. Turning every Wednesday night into Women's Night.
What:
We're setting aside one night a week to offer women-only urban wellness inspired by the classic Scandinavian sauna tradition. A chance to decompress and relax in the middle of the week with female-only time in the spa. Join us for our signature, self-directed 2 hour Nordic Circuit, some great tunes, and in future – options to chat with a women's wellness expert after the circuit. Another important part of Wellness Wednesdays for Women is giving back. A portion of WWW circuit sales are donated to local charities working to improve the lives of women and girls.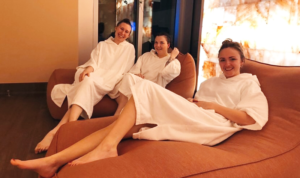 Where:
RITUAL Nordic Spa, Victoria's newly opened modern sauna house located downtown at 989 Johnson Street. RITUAL reimagines the hot/cold/relax circuit for our busy lives, by offering a modern sauna experience in a delightfully unpretentious, urban setting. Bathing suits required: we follow a "suits on, phones off" policy.
When:
Each Wednesday evening from 5-9 pm, starting March 16. Reservations required. Online booking for the 2 hour Nordic Circuit available on the half hour, with the last booking time at 7:00pm. Four spaces available in each "wave." Book for a group or yourself – solo visitors welcome.
Who:
Open to women 18 and older, including those who identify as female (includes cis and trans individuals identifying as female). We have three changerooms, towels, water, lockers, plus robe and sandals, if desired.
Why:
We've heard from you that Victoria needs more lovely spaces where women of all cultures can relax together, in the name of wellness. (We're inspired by Crystal Pool, where they've been offering women-only swim slots for years.) In European cultures, women have gathered in the spa for centuries. Whether for cultural preference, personal comfort, or a chance to socially connect with other women – we think it's a new Ritual worth trying in Victoria.
RITUAL Nordic Spa aims to provide a comfortable, welcoming environment for women / those who identify as women, to experience the Nordic spa circuit, and reduce barriers or concerns when trying something new. As part of creating this space, we maintain an atmosphere of body neutrality: the growing movement that believes the best life is one lived without having to think too much about our bodies one way or another, positive or negative. Every body is amazing. Guests focus instead on health, wellness, and how great the feeling can be, when you move through the hot+cold+relax cycle of the Nordic Circuit.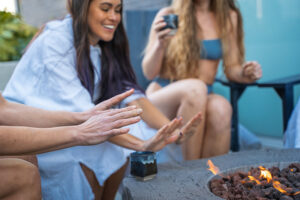 The RITUAL Nordic Circuit starts at $59 for a mid-week visit or $69 on weekends. Regular guests can choose one of the series passes starting at $160 for three visits or a monthly Cold Plunge Club special at $184/month.
Check out our hours of operation and book online, or for more information call 778-440-9009.
RITUAL Nordic Spa observes all provincial public health guidelines. Read our policies.